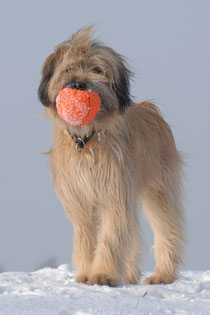 Once again I was reminded by my dogs NEVER to start shaping session with Vigo first, cause it causes ME to get frustrated by the others :). My task for today was to teach them to open a drawer (sort of shooting oneself in the knee, I know, since they already steal everything from everywhere). The added difficulty was that I used that drawers cabinet to practise lifting both left / right legs before, so they might get a bit confused.
But Vigo figured it out in like 5 clicks, voila, he opens the drawer. He's magical, he seems to actually read my mind and he is really a model student, as when he gets rewarded for something he repeats the behaviour and every click takes him closer to the final behaviour.
Then I took Brava and she got really stuck on standing with her side to the cabinet and lifting legs and targeting it with her muzzle but still standing side by side to it, so she couldn't possibly open the drawer even if she tried... I tried to block her way a little bit, so she had to stand with her front towards the cabinet and I got the desired behaviour in the end, but it was a bit frustrating for both of us, especially because if she doesn't  figure out what I want quickly enough she stops offering behaviours. 
Then I tried it with Sunday and same story, only Brava tends to freeze in one position in such a situation whereas Sunday gets more and more hysterical and tries to offer one behavior for which she is not rewarded again and again, protesting really loudly when she doesn't get click&treat for it. She is really funny, because from time to time she does something else and gets rewarded for that and then she goes back to doing whatever she was not rewarded for (in this case, lifting side legs)... every shaping session with her looks like that, she finds some behaviour SHE thinks I might have in mind and fixates on it, only offering something else by accident now and then. Fortunately, once she offers something I want a couple dozens of times by chance, she begins to offer it consciously and then it goes pretty quick :). 
With Flaszek I'm focused on shaping him to jump on the bang box. I have lots of books under it so it moves only slightly and once he gets confident with it I take one book out. He's making nice progress, at first he was horrified even if it moved by a centimetre and now it's already moves 15 cm down and makes a little noise :). No hurry though :).