EXTREME BRAVEHEART Willa Mora - Brava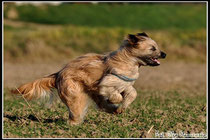 Date of birth: 02.02.2009
HD A/A ED 0/0
Eyes: free from cataracta congenita, membrana pupilaris persistent and dysplasia retinae - certificate valid untli 15.04.2014. 
Height: 39 cm
Agility: A3
Best results (so far):
4th place in combined medium in Agility World Championship 2011,
3rd place jumping individual medium in EO 2012,
8th place in EO 2012 final medium,
2nd place agility individual medium at AWC 2012,
1st place jumping team medium AWC 2014,
2nd place BACK 2015 final
2nd place MAGNA RACINO 2015 final
3rd place EO 2015 final :)
3rd place jumping team medium AWC 2015
About Brava:
Brava is PYRFECTION herself - funny, smart and unbelievably cute. She is incredibly flexible, with nice retrieve, drive and will to please, which makes her fantastic agility dog. She also has excellent potential for frisbee. She is my dream come true, will do anything with the same enthusiasm and is a champion of making the innocent face "I'm not doing anything wrong!", whenever she's up to some mischief. She is really calm at home at really crazy outside, will try any new trick with same enthusiasm over and over. She loves people, especially children.